The first public presentation of the collection of educational cases «The Book of Reforms» in Kyiv
The case method has been used for a long time by Western universities and business schools because it makes the educational process much more efficient. The Center for Leadership of UCU together with Lviv Business School (LvBS) of UCU invite you to a public presentation of the «Book of Reforms» collection. Our common aim is to help to improve the educational process in Ukrainian universities by giving teachers and students an effective tool. This tool is called a case-method. The event will take place on December 10, 2019 in Kyiv, and everyone will be able to get the book for free.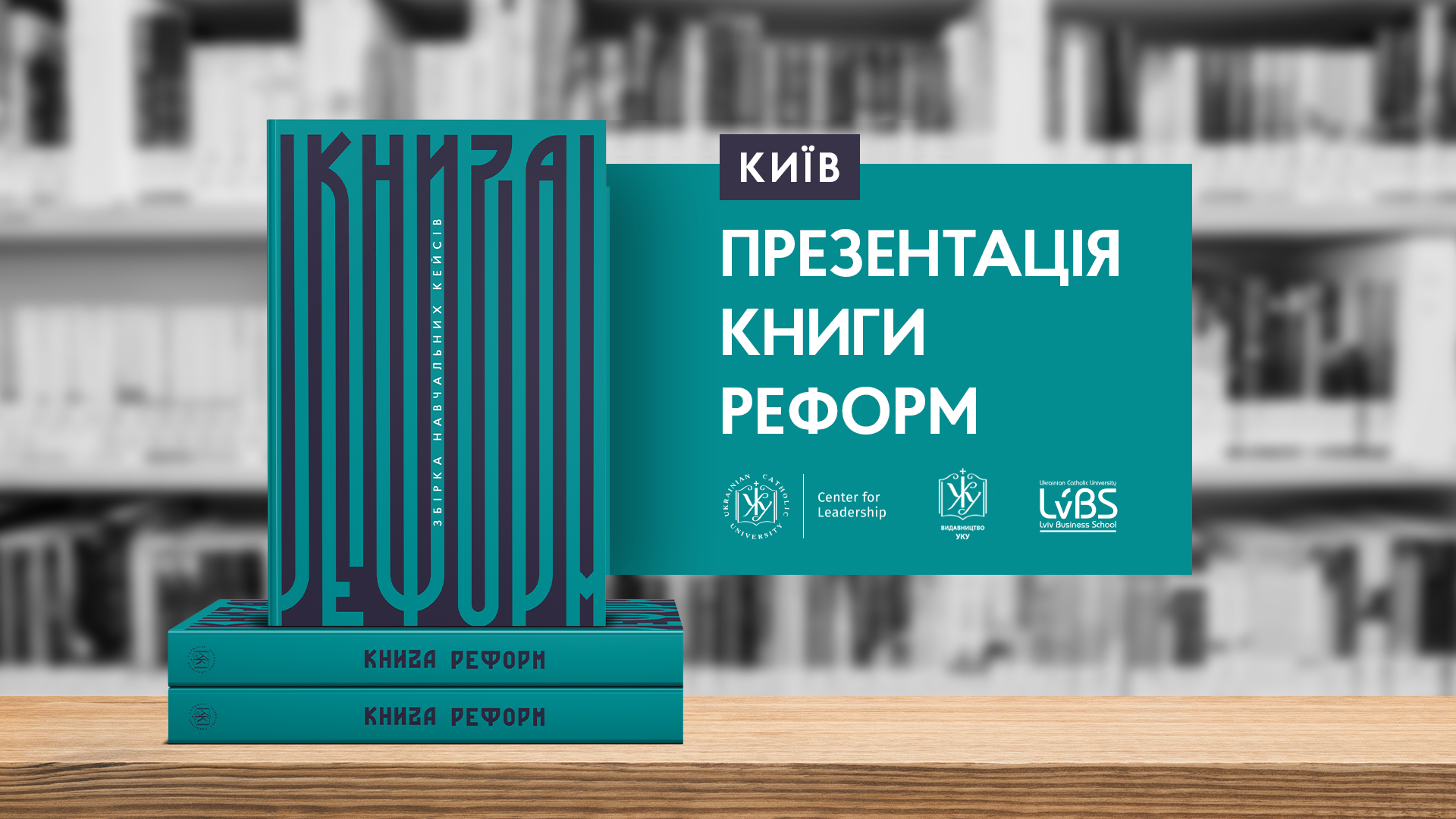 «Book of Reforms» is a collection of twelve training cases, each describing comprehensively the specific case of the transformation processes that took place in Ukraine after the Revolution of Dignity in 2013–2014. More than twenty authors and editors have been involved in the work on collection, particularly from the Ukrainian Catholic University, the Center on Democracy, Development and the Rule of Law of Stanford University, Ian O. Ihnatowycz Institute for Leadership, Richard Ivey Business School, University of Western Ontario.
For whom:
We invite teachers, who are ready to use case-method in their educational programs, educators and students, who are interested in the innovation approaches to studying, and everyone, who wants to know more about insights and internal change processes that have taken place in Ukraine.
Participants:
Andriy Rozhdestvensky – Executive Director of the Center for Leadership of UCU, co-author of the cases «Transparency International Ukraine», «Public Broadcasting in Ukraine»;
 Mychailo Wynnyckyj – lecturer at LvBS, head of the secretariate of the National Agency for Higher Education Quality Assurance (Ukraine), co-author of the case «New country: pursuit for levers of influence»;
Nataliya Pipa – Parliament Deputy, secretary of Committee on Education, Science and Innovation of the Verkhovna Rada of Ukraine;
Zurab Alasania – chairman of the board of National Public Broadcasting Company of Ukraine, hero of the case «Public Broadcasting in Ukraine».
Participation in the event is free with prior registration.
All participants will receive the book as a gift. The book was written and published thanks to the generous donations from Mr. Igor O. Ignatovych and his wife Marta Viter, President and CEO of First Generation Capital Inc., an investment company in Canada, which is why we can distribute it for free.
Location: Osvitoria Hub, Moskovska str., 2, metro station Arsenalna.
Start of the meeting: 15:00, October 10th.
Contact person: Yaryna Stepanyuk, ystepanyuk@lvbs.com.ua, 093 99 555 32.