«The Book of Reforms» Presentation in Kherson: a Сase of Ministry of Defence
The case method has been used for a long time by Western universities and business schools because it makes the educational process much more efficient. The Center for Leadership of UCU together with Lviv Business School (LvBS) of UCU invite you to a public presentation of the «Book of Reforms» collection in Kherson. Our common aim is to help to improve the educational process in Ukrainian universities by giving teachers and students an effective tool. This tool is called a case-method. The event will take place on October 8, 2020 in Kherson, and everyone will be able to get the book for free.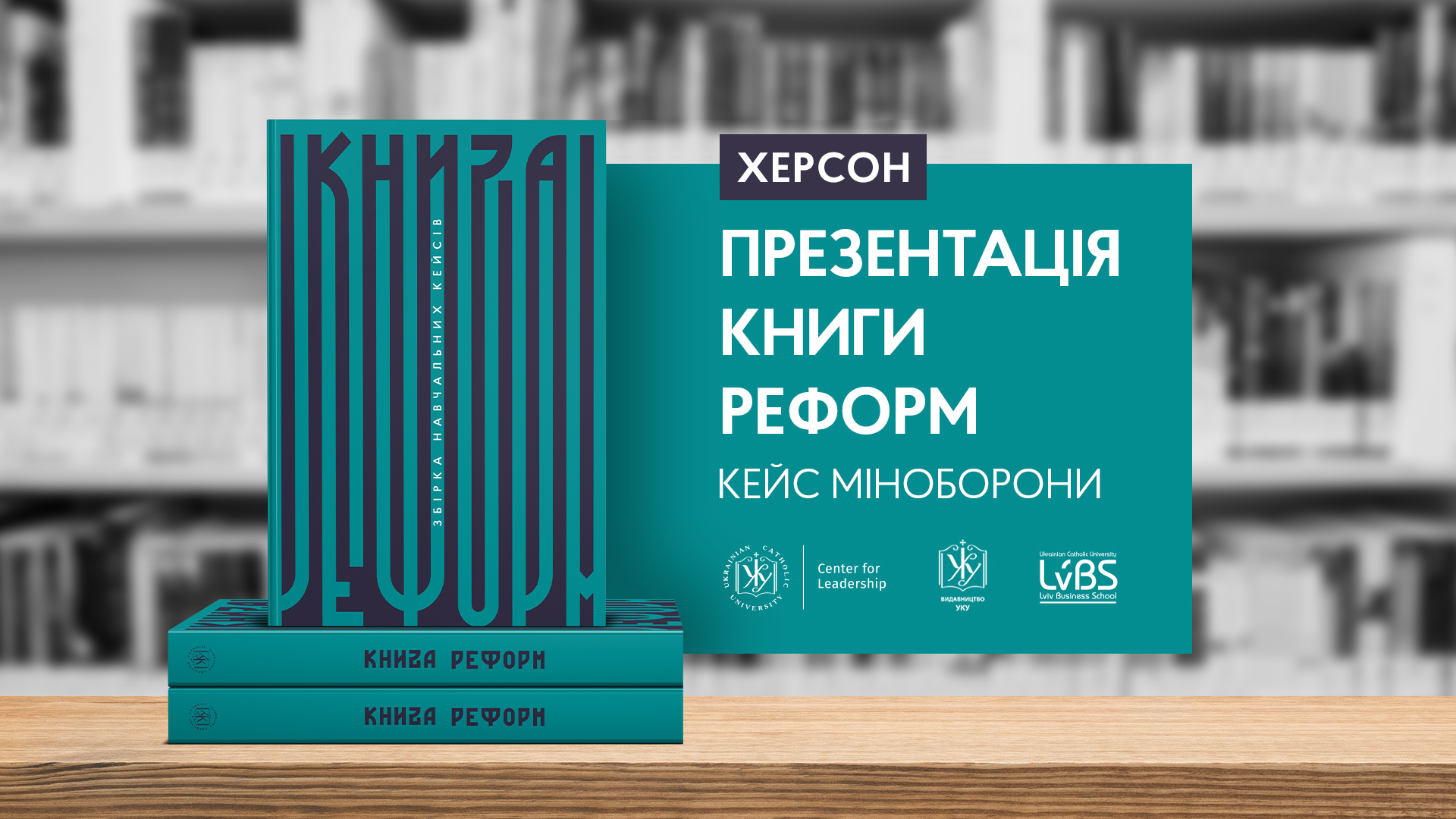 «Book of Reforms» is a collection of twelve training cases, each describing comprehensively the specific case of the transformation processes that took place in Ukraine after the Revolution of Dignity in 2013–2014. More than twenty authors and editors have been involved in the work on collection, particularly from the Ukrainian Catholic University, the Center on Democracy, Development and the Rule of Law of Stanford University, Ian O. Ihnatowycz Institute for Leadership, Richard Ivey Business School, University of Western Ontario.
The presentation of the collection will take place in the form of a profound introduction to one of the cases. Thus, you will be able to become familiar with the case method better and understand how you can learn using the case study and place yourself in the context of the events described in the text.
This time we will work with the case «The Ministry of Defence of Ukraine: the Role of Character in Reform». We will discuss the following questions:
How can organizational culture and stakeholders help or inhibit organizational changes?
Why to successfully implement change initiatives, the leader's competencies should be consolidated with the character?
How do managerial experience and leadership contribute to sustainable change?
Participants:
Andriy Rozhdestvensky – Executive Director of the Center for Leadership of UCU, co-author of the cases;
Yuriy Husev – head of Kherson Regional State Administration, former Deputy Minister of Defense of Ukraine, hero of the case «The Ministry of Defence»
For whom:
We invite teachers, who are ready to use case-method in their educational programs, educators and students, who are interested in the innovation approaches to studying, and everyone, who wants to know more about insights and internal change processes that have taken place in Ukraine. The meeting will be specifically useful for those who are curious about leadership, organizational growth and change implementation.
Participation in the event is free with prior registration.
All participants will receive the book as a gift. The book was written and published thanks to the generous donations from Mr. Igor O. Ignatovych and his wife Marta Viter, President and CEO of First Generation Capital Inc., an investment company in Canada, which is why we can distribute it for free.
Meeting place: Kherson, University str., 27, Kherson State University.
Beginning of the meeting: 15:00, October 8th.
Contact person: Andrianna Bilash, abilash@lvbs.com.ua, 073 14 523 91