Profits, reputation and clients: what does social responsibility give to business?
Business leaders understand all the advantages of corporate social responsibility (CSR). The Lviv Business School of UCU (LvBS) invites on the event «Profits, reputation and clients: what does social responsibility give to business?» that will be held on May 21st in Lviv with the professor of Columbia School of Professional Studies – Gregory Muth.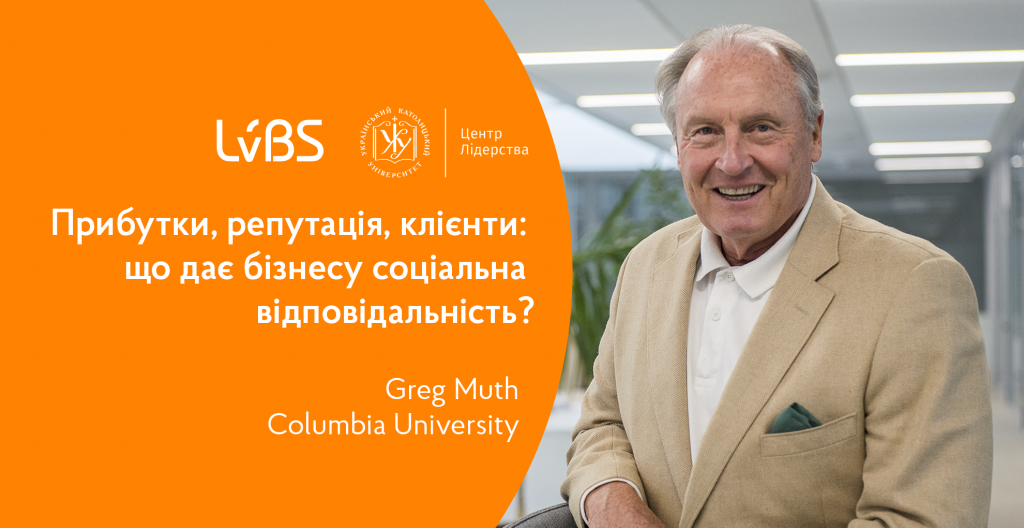 In times of lockdown, companies with CSR have lower losses, but higher investment inputs if compared to other organizations, and also socially responsible business possesses stronger loyalty (and money) of clients – so this is a fairly financially beneficial deal. Today it is not enough to simply do business well – there is a need to take care of the planet, ecology and also of people in the socially-ethical context. And this is not a question of choice – this is simply a necessity. But it's important to comprehend: principles of CSR should not be put only on the CEO's shoulders and his team – they should be incorporated in all departments. CSR ought to be integrated in the organization's values and only then it would be effective and provide qualitative indicators of ROI. How to properly apply CSR into Ukrainian business structures? How can enterprises change society? These and other topics will be disclosed by the private investor, professor of Columbia University (USA) and visiting lecturer at the Center for Leadership of UCU – Gregory Muth. You can also read his article about which managerial instruments could be useful for achieving goals in business.
Language: English (without translation).
Date and time: May 21st, 18:30
Location: classroom of the Church of St. Sophia – the Wisdom of God
The participation is free with the prior registration.
Limited number of places available.
Contact person: Svitlana Kyrylchuk, 067 76 00 779, skyrylchuk@lvbs.com.ua
Background information:
The present-day private investor and professor of Columbia University (USA), preciously was the CEO at WSL PURE – the philanthropic organization of the World Surf League. Gregory has built his financial career including creation and management of the StrategicMed company, which is a national organization against chronic diseases. President and CEO at International Medical Care that goes in for implementation of models of primary health care in developing countries.