Webinar: Good Leadership in HR: level up your company [online]
We kindly invite you to participate in a series of webinars from LvBS and the Center for Leadership of UCU «Leader character: creating effective teams». The second webinar will take place on April 1: «Good leadership in HR: level up your company». Together with the Center for Leadership of UCU's CEO Andrew Rozhdestvensky, we will discuss the article topic «Embedding leader character into HR practices to achieve sustained excellence» by Gerard Seijts – Executive Director of Іan O. Ihnatowycz Institute for Leadership (Ivey Business School, Canada).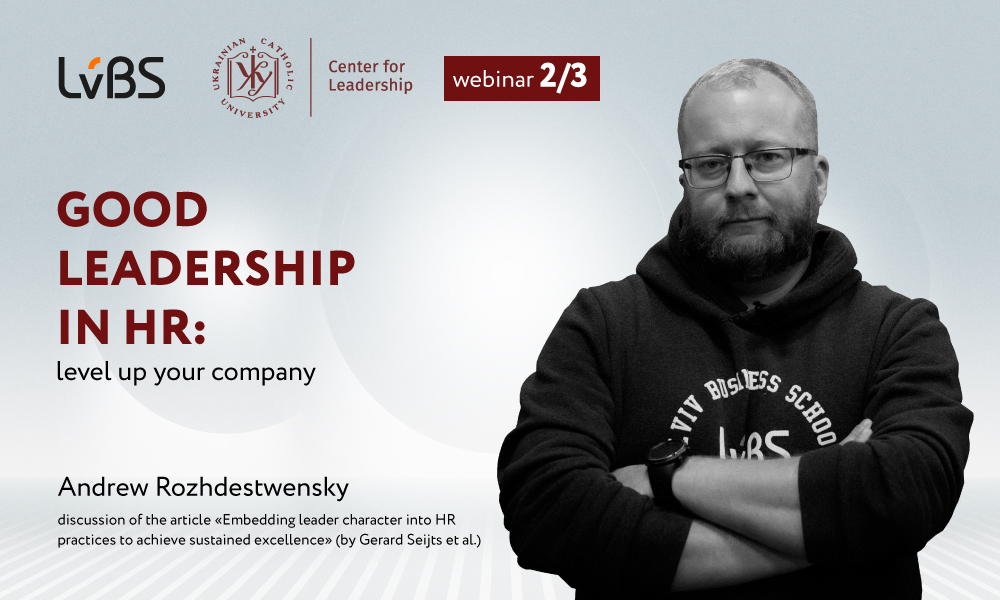 Modern HR practices very often focus on skill sets, at a time when the issue of leadership and commitment moves away on the margins. This causes problems for leaders because such a disequilibrium has a negative impact not only on the fulfillment of objectives by the leader but also by the whole team. Character and skills set must pull the same harness to ensure a successful result.
We will discuss the following:
Skills set for a good leadership (good leadership)
How to implement the leadership into the HR system
Leader's character evaluation
Classification of potential employees by character
Behavioral modeling and mentoring
The event will be especially valuable for representatives of the HR sector, owners and CEOs.
Andrew Rozhdestvensky, the CEO of the Center for Leadership of UCU, will moderate the webinar.
Where: Zoom (we will send you a letter on the day of the event with a link to the meeting).
When: April 1, 18:30
Duration: 1 hour
Participation is free of charge on the condition of pre-registration.
For reference:
Gerard Seijts is the Executive Director of Іan O. Ihnatowycz Institute for Leadership in Ivey Business School. And what is more he:
is actively engaged in research activities, resulted in scientific articles publications;

received a PhD degree in the University of Toronto;

is an award winner for scientific studies, innovations in teaching and public awareness campaigns;

lectures at postgraduate programs EMBA, MBA and other Master's programs such courses as Leadership, change management, organizational behavior and operations, and personnel management ;

is the author of different cases on many topics such as cases about Leadership, leader's character, change management, crises management, teams, corporate culture, conflict management in teams;

is the author and co-author of 4 books: Leadership on Trial: A Manifesto for Leadership Development; Good Leaders Learn: Lessons from Lifetimes of Leadership; Developing Leadership Character; Leadership in Practice: Theory and Cases in Leadership Character.