Start of the study of workplace well-being
The Center for Leadership of UCU has launched a large-scale study of workplace wellbeing. It aims at clarifying various issues that are poorly researched in the Ukrainian context.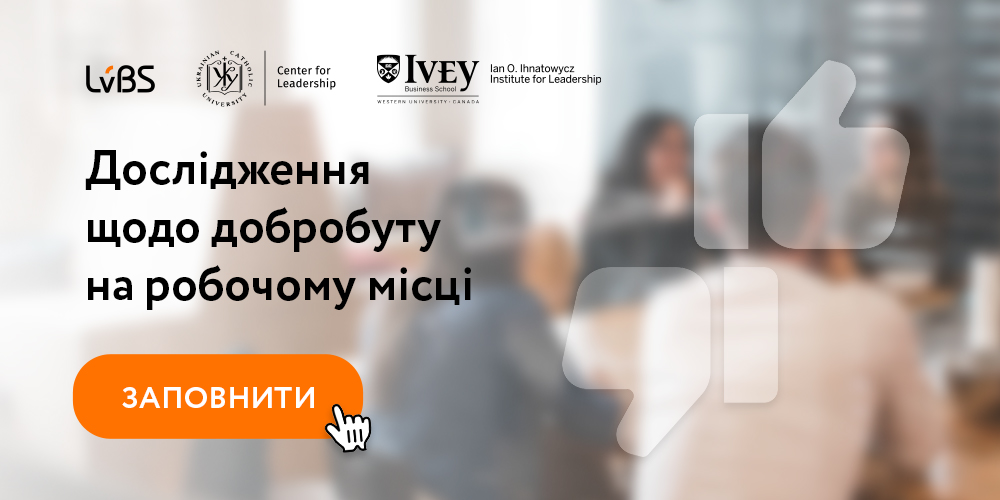 The study is designed by experts of the Center for Leadership of UCU and Ivey Business School (Ian Ihnatowycz Institute for Leadership). It is based on the following substantive issues:
leadership character;
employees' workplace wellbeing;
job satisfaction;
organizational commitment;
job involvement, etc.
The importance of these factors for the organizations has increased dramatically during and after the pandemic. Research and consulting companies around the globe (McKinsey, Deloitte, Gallup, etc.) have focused on these issues. Was there enough attention paid to this matter in Ukraine? We believe that if the answer is not an unequivocal "no", it is obviously "not enough."
The more employed people participate in the study, the more reliable results will be received. Consequently, we will have a more truthful overview of employees' wellbeing. We will be able to share more accurate and relevant information. We will be able to create better guidelines for the Ukrainian leaders.
Only subordinate employees can participate in the study. Your participation in this survey is voluntary. All the responses you provide are anonymous.
Fill in the questionnaire and get a present you choose among those listed here.
The questionnaire is available under this link.
Duration: up to 1.5 hours.
We recommend using Google browser to fill in the questionnaire. In case of access problems, please clear your browsing data (cookies and other site data, as well as cached images and files).
Reference information:
The leader's character is the cornerstone of the "Leadership based on character" framework, which is being studied and implemented in the educational processes by the Center for Leadership of UCU (Ukraine). This framework has two more components — competencies and commitment. Competencies show what leaders can do. The commitment is related to the number of efforts leaders are willing to make. And, finally, character influences decisions made by leaders.
Employeesְ workplace well-being is the key to the future of work. It plays a crucial role in ensuring the organization's viability. Employees with a high level of well-being are more productive, satisfied with their job, involved in their job, and are more committed to the organization.
The feeling of job satisfaction is a positive emotional response of an employee to his/her job. Job satisfaction increases employees' involvement and willingness to do more.
Job engagement increases the productivity of an employee, a team, or an organization. The involved employees care about their job and feel that their efforts matter.