Webinar: Employee engagement: how leaders can make a difference to improve organization [online]
We kindly invite you to participate in a series of webinars from LvBS and the Center for Leadership of UCU «Leader character: creating effective teams». The first webinar will take place on March 25: «Employee engagement: how leaders can make a difference to improve organization». Together with the Center for Leadership of UCU's CEO Andrew Rozhdestvensky, we will discuss the article topic «What engages employees the most or, The Ten C's of employee» by Gerard Seijts, Executive Director of Іan O. Ihnatowycz Institute for Leadership (Ivey Business School, Canada)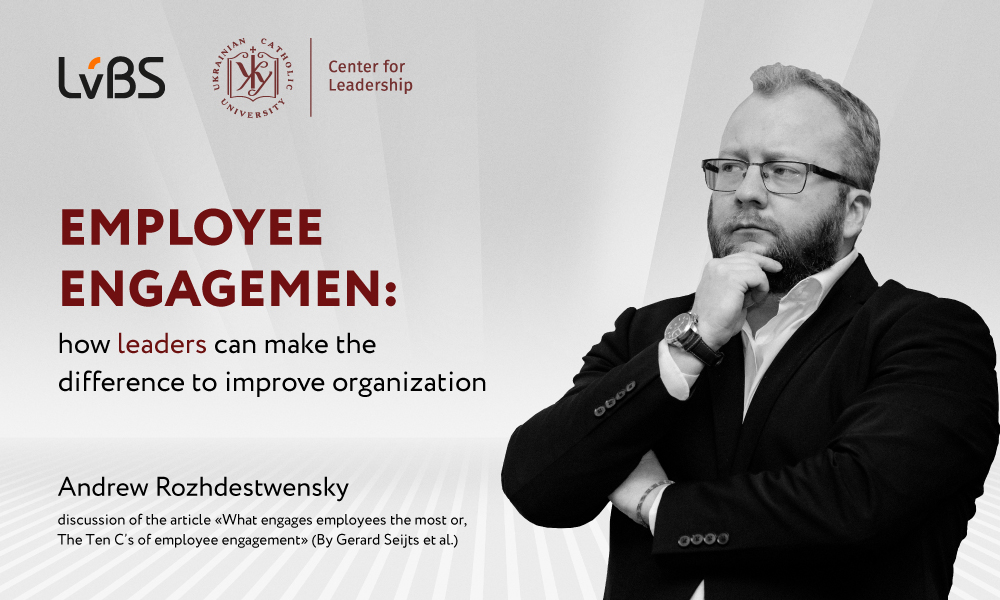 Today, when many companies work online, the subject of employee engagement has become more acute. For leaders, it is extremely important to define the level of this engagement, to know the proportion between the most engaged, medium engaged and not engaged employees. This will let them make effective solutions and improve company productiveness.
Canadian approach proves that the level of engagement doesn't depend on the macroeconomic environment of the country, in contrast to the specifics of the work, which directly affects the level of employee engagement.
We will discuss the following:
Are we witnessing a crisis in employee engagement today?
What influences employee engagement?
How much does the «lack of engagement» cost for a company?
What can a leader do to increase team engagement?
Andrew Rozhdestvensky, the CEO of the Center for Leadership of UCU, will moderate the webinar.
Where: Zoom (we will send you a letter on the day of the event with a link to the meeting).
When: March 25, 18:30
Duration: 1 hour
Participation is free of charge on the condition of pre-registration.
For reference:
Gerard Seijts is the Executive Director of Іan O. Ihnatowycz Institute for Leadership in Ivey Business School. And what is more he:
is actively engaged in research activities, resulted in scientific articles publications;

received a PhD degree in the University of Toronto;

is an award winner for scientific studies, innovations in teaching and public awareness campaigns;

lectures at postgraduate programs EMBA, MBA and other Master's programs such courses as Leadership, change management, organizational behavior and operations, and personnel management ;

is the author of different cases on many topics such as cases about Leadership, leader's character, change management, crises management, teams, corporate culture, conflict management in teams;

is the author and co-author of 4 books: Leadership on Trial: A Manifesto for Leadership Development; Good Leaders Learn: Lessons from Lifetimes of Leadership; Developing Leadership Character; Leadership in Practice: Theory and Cases in Leadership Character.